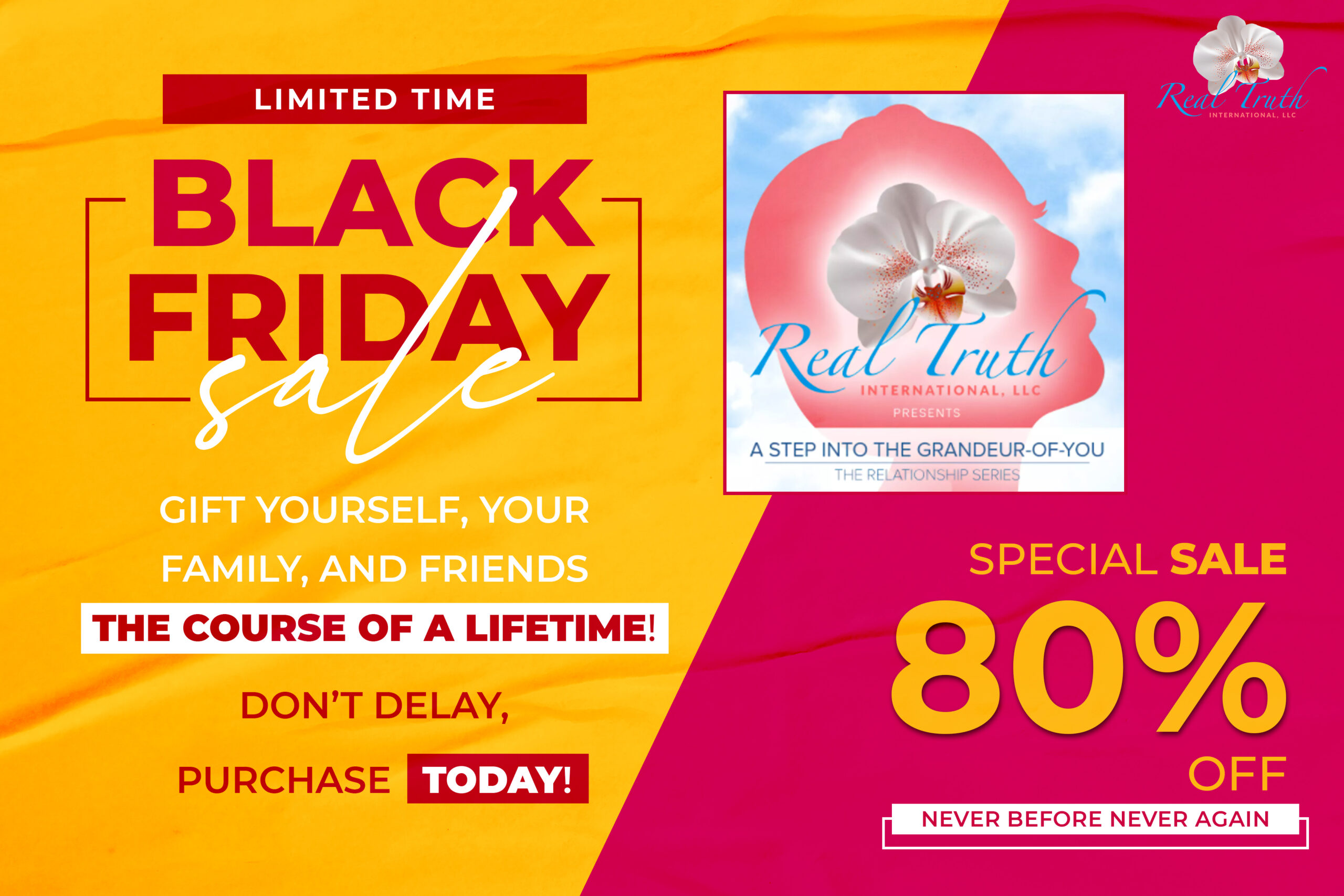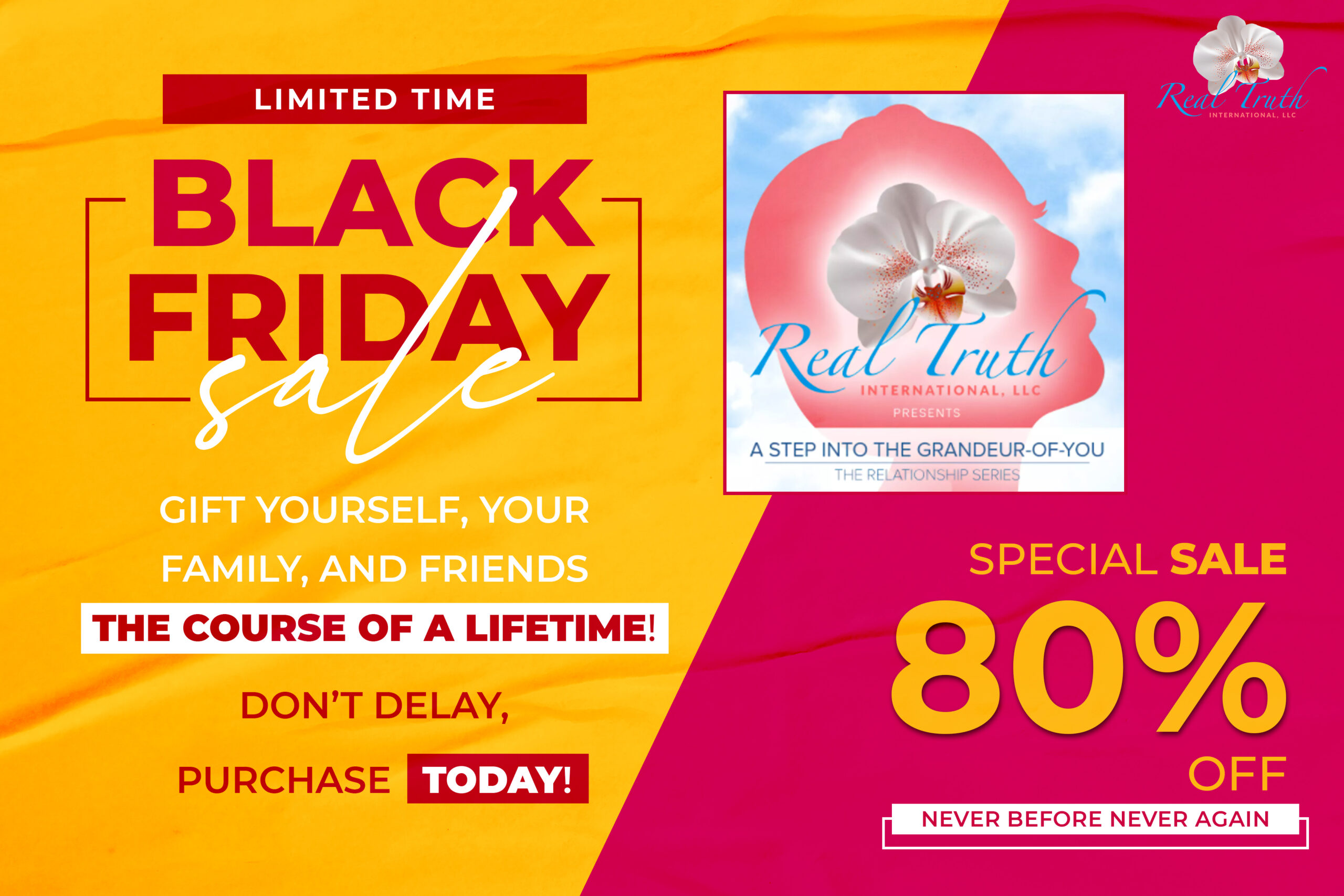 It's time for you to live a fulfilling life and step into the Grandeur-Of-You! You Don't Want to Miss This!
A STEP INTO THE GRANDEUR-OF-YOU;
THE RELATIONSHIP SERIES: A 44-day course to enhance your mental and emotional well-being
Normally $987For a Limited Time – Black Friday Special $197.40
That's 80% Off!
There's nothing more important than your mental and emotional well-being. Peace-of-mind is a byproduct of Stepping Into Your Grandeur.
When you step into the Grandeur-of-You, you begin living the Grandeur-of-Self which means understanding your real Value, knowing you matter without subjugation and having Whole-Self-Acceptance that is void of shame and regret.
When you step into the Grandeur-of-You, the thoughts, feelings and actions that have kept you from being all you can be are diminished and replaced with the best, grandest, happiest and most courageous version of Self.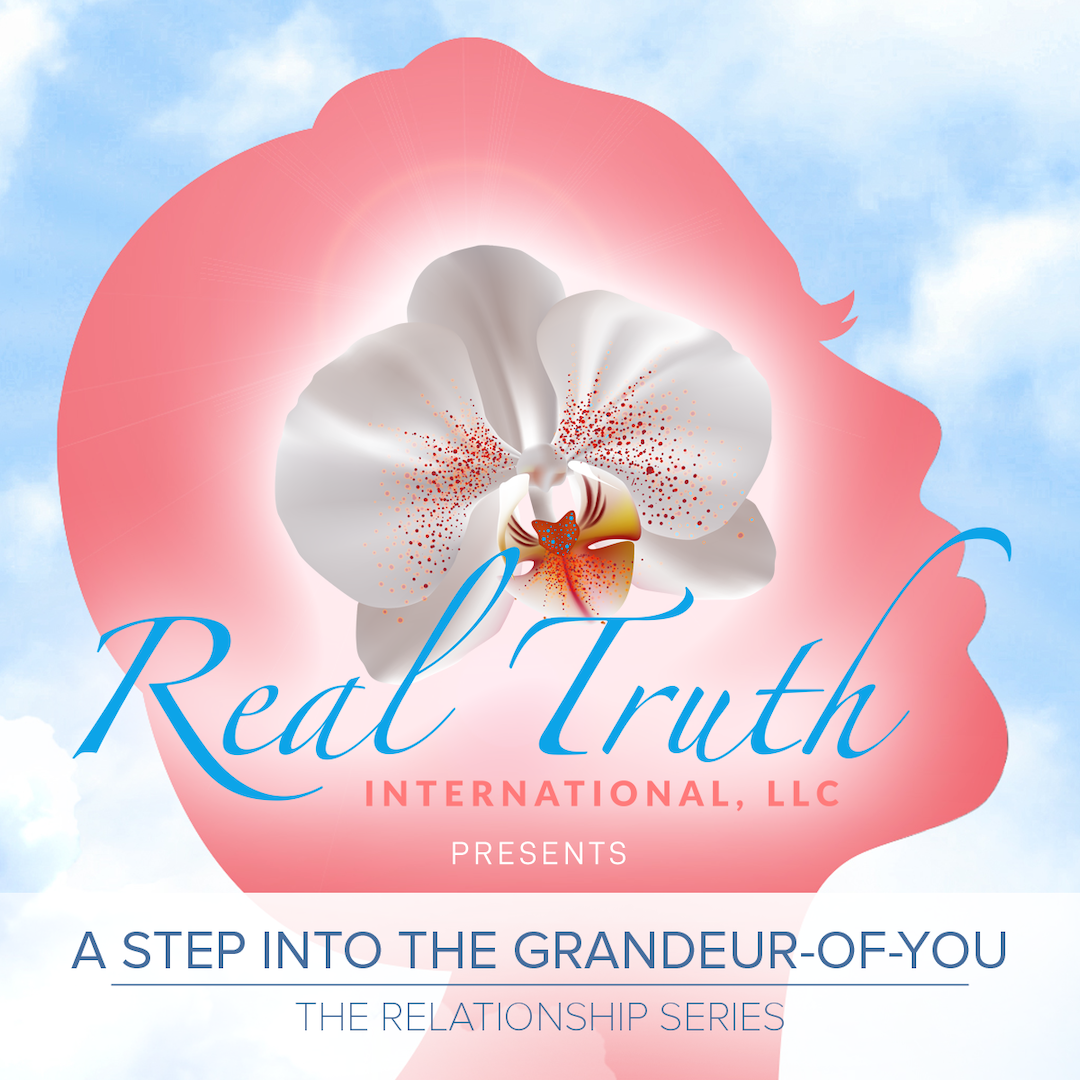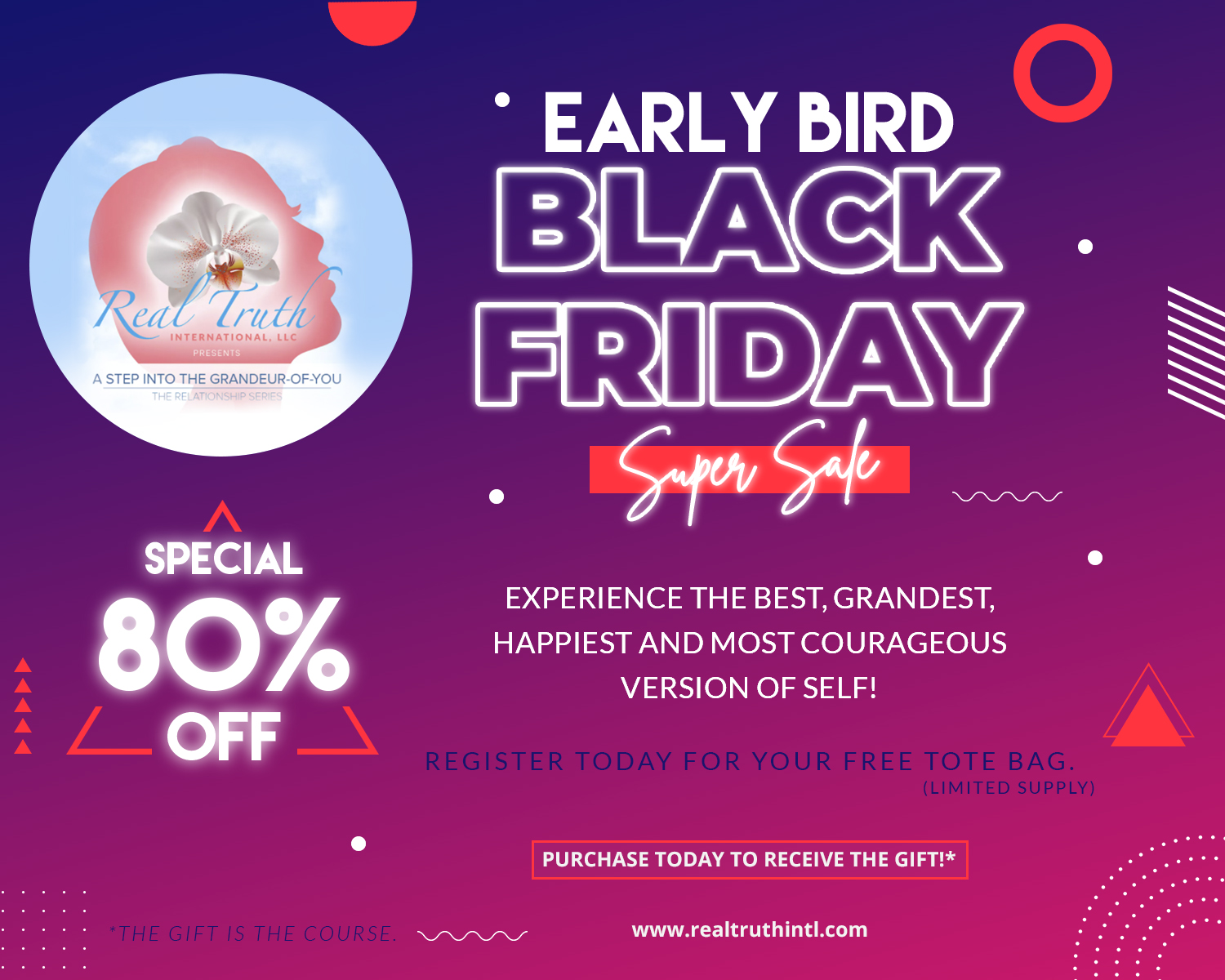 When you know you really matter and are living a fulfilling-life here is some of what happens;You awake with a smile on your face and your new self-talk is:
Yes!I Really MatterYes! I love my lifeYes! I love who I amYes! I know my valueYes! I have an extraordinary lifeYes! I make Self-Honoring ChoicesYes! I no longer carry shame and regretYes! Peace, joy and happiness are my consistent experiences.Yes! You are ready to live that life by learning to release the familial and societal conditioning that hasn't allowed you to experience THE GIFT of your life and it awaits you.
You, your family and friends are going to be grateful and thankful for saying Yes to THE GIFT.
Normally $987For a Limited Time – Black Friday Special $197.40
That's 80% Off!
Here are some of the beautiful experiences communicated:
"
2021 is a New Year and a new me.
2020 gave me the gift of taking the A Step Into the Grandeur-of-You course.
I now start my day with a smile on my face knowing that I matter, I make Self-Honoring Choices and I have a deeper love for myself. I take the time to make Self-Honoring Choices and I speak truth to it. I communicate with others instead of being quiet and stand tall in it!
I needed this and I am so pleased and will continue on with it because I continue to grow and learn from it.
Thank you RaShawn-Renée, thank you!
Helen H.
"
I read a quote yesterday that said, "New Year, same me, but I am going to love her more than ever." And that resonated with me, especially after participating in this course.
I learned quickly that this work is absolutely necessary for stepping into my grandeur and living the life I desire. I am able to see my own worth and value and am more confident in making Self-Honoring Choices than ever before.
I am now able to look myself in the eyes and tell myself that I matter and actually believe in the words I am saying. I feel better equipped to take on life and pursue my goals with the tools this course provided. I can't express enough how life-changing this work is.
Thank you, Real Truth International
Nicole P.
"
One thing that is benefitting me and I am implementing in my life in 2021 is 'pause and rest.' During the course, I gained tremendous insight into myself and my patterns. Creating the 21-day processes by applying these insights led me to see just how important pausing and resting are for my sacred health and well-being.
It is causing a revolution in my consciousness and body.
Thank you Real Truth Team and fellow participants.
Dharmini C.
What Living Your Grandeur Feels Like….
Feeling really great about you because the mental and emotional programming that has kept you from fulfillment, inner peace, fully seeing the splendidness of you and eroded your ability to make Self-Honoring Choices no longer (unconciously) directs your life. You feel really great about you becuase you are mentally and emotionally liberated.

Being a person that others admire, respect and emulate because of who you are…Your life becomes a model for learning, loving contribution and is an example of what real success looks like.

Having a cute discernment interest in yourself enough to follow your Inner-Guidance.

Being mindful of how you use your time and who you share your time with because you know your value.

Knowing that you are your own hero because of the journey you've taken to arrive at this moment.

Feeling powerful because you've learned to release the shame, regret and blame you've carried for sooo long. You feel lighter. You have learned your Real Truth and live with Power.

Knowing each day…You Matter!
A STEP INTO THE GRANDEUR-OF-YOU PROGRAM INCLUDES:
Weekly Group (member only) Engagements
Each weekly engagement contains Q&A, Love Seat Coaching and impactful content that moves you to experiencing the best, grandest and most courageous version of Self.
Each engagement we are cleaning-out and re-organizing your mental and emotional spaces.
Imagine having each closet, drawer, cupboard and all the spaces in your home organized in a manner that makes you feel accomplished, powerful and proud of yourself…this is what you get to do for YOU!
We give you what is required to succeed.
In addition to the weekly engagements you receive a beautiful accompaniment workbook to support you in the facilitation of Stepping in the Grandeur-of-You.
Video Series
Each module in this masterfully curated curriculum is a Companion video from Rashawn-Renée that provides communication necessary for you to become the grandest version of YOU.
Private Facebook Group
You are greeted by like-hearted people who are on the journey with you. You are not alone. Being accepted in the private Facebook group, you have access to support, encouragement and cozy chats with Rashawn-Renée, special guests and members of the Real Truth Team.
Normally $987For a Limited Time – Black Friday Special $197.40
That's 80% Off!
BONUS
🌸Free audible chapters from the highly acclaimed 44 Hours & 21 Minutes; A Women's Truth and Power
Early Bird special for Black Friday Sale
BUY NOW!Receive a complementary Tote Bag!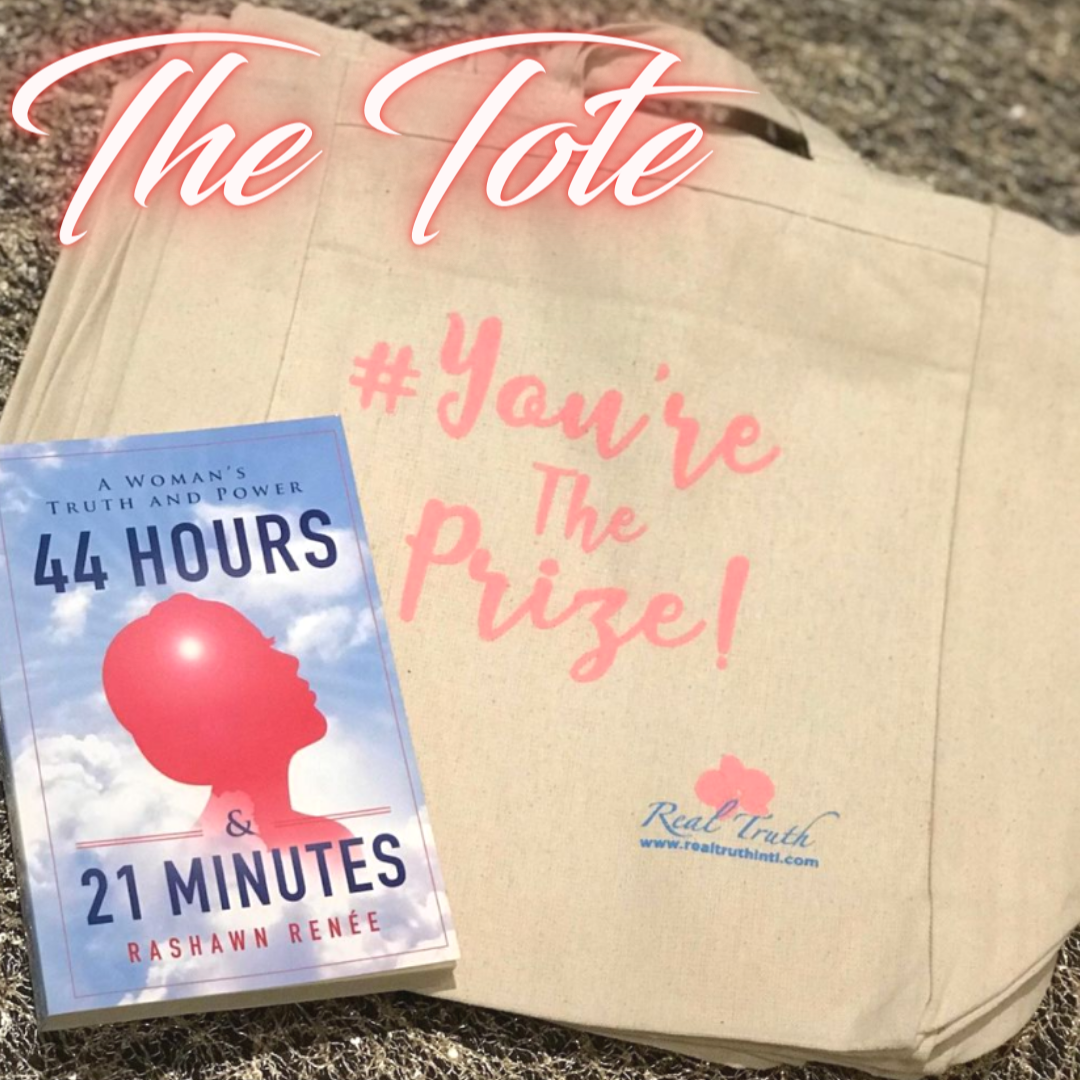 A message from RaShawn-Renée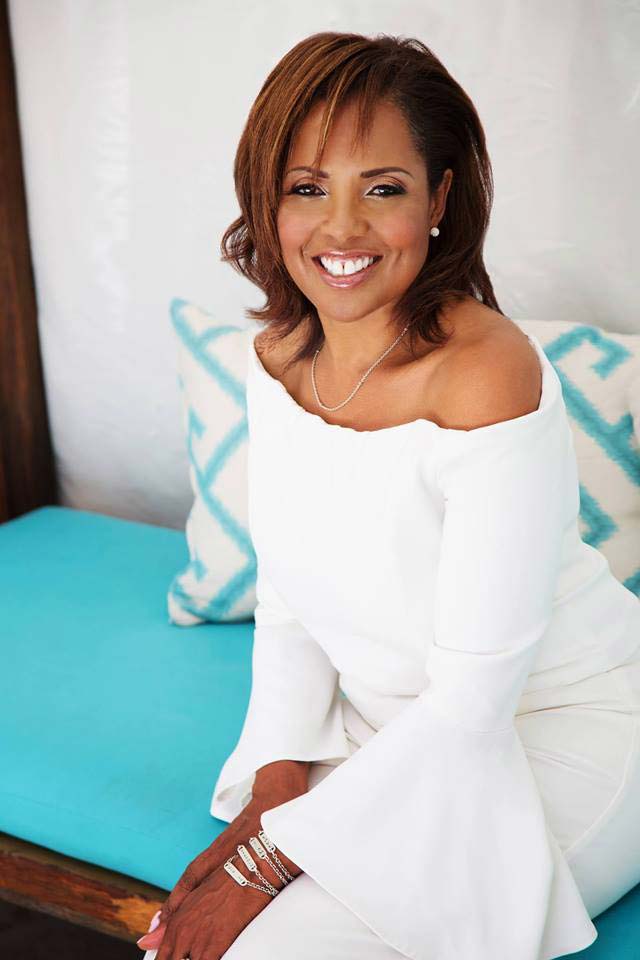 This is your time and this is your program!
Trust yourself and join me. Allow me to support you in becoming the best grandest and most courageous version of you. Learn The EER process and give yourself the opportunity to liberate yourself from all that has held you back from being ALL YOU CAN BE!
The tools, skills, mindset and nurturing provided in this program will catapult you to an enhanced way of thinking and give you the ability to make Self-Honoring Choices.
Once upon a time, my life was navigated by fear confusion, indecision and lack of self-knowledge (although I didn't know it at the time). What I did is know is, I was a good person, I wanted to contribute in the world, be a leader in my family, and I wanted to be proud of myself. I wanted to love ALL of me and understand me and my inbiltu to make Self-Jonoring Vhoices.
What I knew was No amount of success at work, shopping, spa days or travel would satisfy what I yearned for nor sustain me mentally and emotionally. For decades my life was consistently inconsistent.
Then a life defining experience occurred over the course of approximately 44 hours and 21 minutes. It was during that time, I glimpsed my power and became abundantly clear the life I was living and the life I truly desired were different….And, I needed to change.
I embarked upon a fact-finding mission to learn about myself and human development through education, experiential learning, spiritual modalities and excavating the entirety of my life. My efforts were fruitful and I was able to learn, understand, then develop and implore solutions that have created a meaningful substitute happy and filling life.
My current life is and has been for many years a byproduct of those discoveries and I can write with gratitude, and a happy heart that what I learned has become this program (in-part) and for the past three years it has enhance the lives of many people in many countries and it will enhance your life too, if you allow it.
We all want to know we matter, we all want to be proud of ourselves, we all require self-understanding to gain self-fulfillment .
You are not alone, and this is your time and we can be on this journey together.